Buckle height adjustment:
When adjusting the buckle height, it should be positioned on the lower
abdomen of the child when fastened. As your child grows, this will need to be
adjusted accordingly. This adjustment can be completed in
the car so there is no need to undo your installation.

Increasing the Buckle Height:
1. Release the press studs on the seat fabric's back panel (refer to page 54 of the instruction manual for more detail) and pull the back panel forward to expose
the buckle's mounting points in the seat.
2. Connected to the buckle strap is an adjuster, press on the lever and pull on the buckle simultaneously to extend the height as shown in
images A and B. Release the lever when the desired height is reached.
3. If using the seat with the buckle pad, note it has an extendible
feature to match the height of the buckle. To increase its height simply
pull it through the buckle hole in the seat pad.

Lowering the Buckle Height:
4. Pull on the buckle adjuster strap as shown in image C.
5. To reduce the height of the buckle pad, thread it through the seat pad
until the desired height is reached.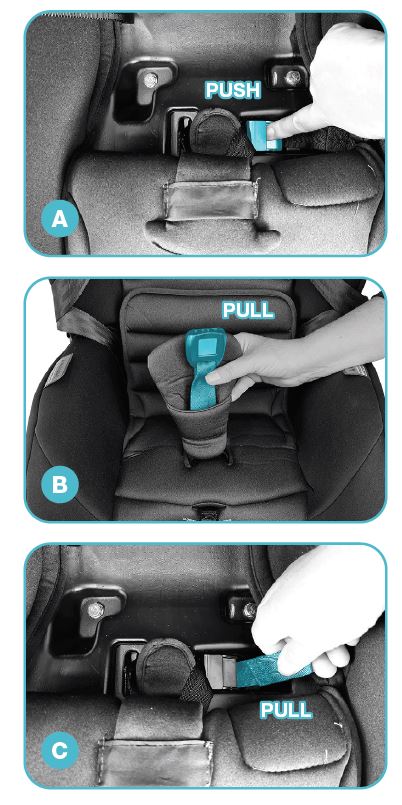 Please refer to your instruction manual for any further detail or contact our consumer care team at 1300 809 526.